The FA Plexworks Custom Job Tracker keeps you updated of your custom order's progress. To see the status of your custom order, please enter your order ID and press "Search". Your order ID is available by email, or if you registered an account with our site, via your order history.

Here is an example of the Job Tracker's interface after an order ID is searched: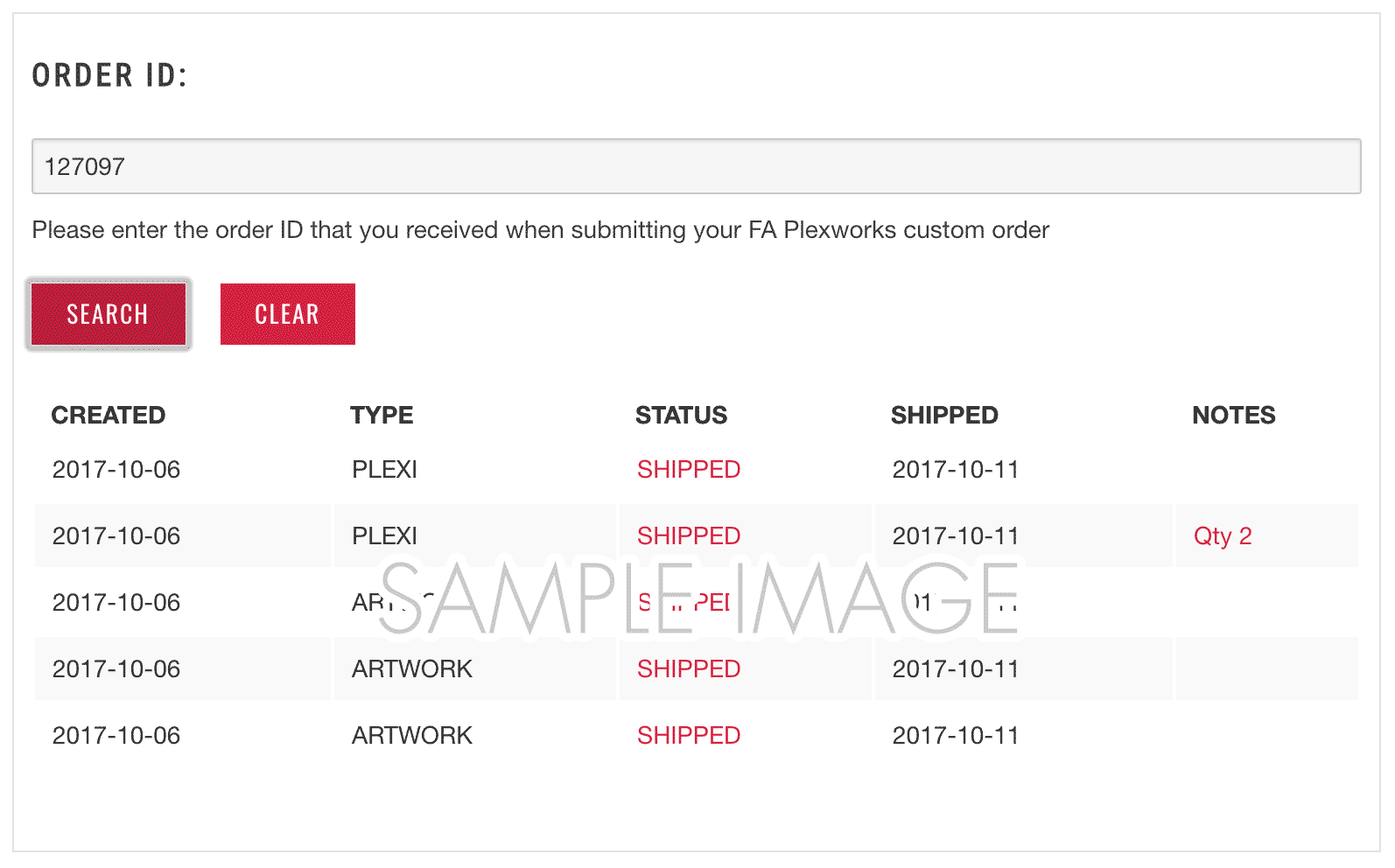 Here is a breakdown of the columns represented in the interface:
ORDER ID: This is the same order ID provided to you upon making a purchase with Focusattack.com. You can find this ID in our automatically generated correspondence emails, or by logging into your account at focusattack.com.

TYPE: We identify the product or service ordered under these current designations: PLEXI, ARTWORK, DUSTWASHER

STATUS: Your order will appear in the following states during fulfillment:
IN QUEUE: Your custom order is received and now added to the queue to be processed by our designers.
IN PROGRESS

: Our designers begin processing your custom order. In this stage, we print the artwork submitted, or begin cutting or etching the plexi to your specifications. We ask for 7-10 business days (business days are Monday-Friday 9-5pm EST) to complete any custom order requests and either ship direct or send to our fulfillment warehouse.

DRY/POLISH: Artwork has finished print and cut, or plexi is etched and/or cut. Artwork is now drying and setting on paper. Polish is applied to the plexi and allowed to dry. Please allow 24 hours for this process. At this stage we cannot edit or cancel the custom order. Please see our custom order return and replacement policy for an explanation.
PROCEEDING TO ART: If your custom order contains both artwork and plexi, we completed the plexi and are printing artwork.
PROCEEDING TO PLEXI: If your custom order contains both artwork and plexi, we completed the artwork and are cutting or etching plexi.
TRANSIT TO WAREHOUSE: Your custom order is received by our warehouse fulfillment team. They will add this order to their queue of non-custom orders to pack and ship.
SHIPPED: Your custom order has shipped. You will receive an email confirmation with tracking.
HOLD: There is an issue with the contents of order submission. You will receive email correspondence from support@focusattackllc.zendesk.com. It may first appear in your spam filter, so please check this as well. If you know how to fix the issue, you can send a correction using our Submit Corrections form. Orders that are in HOLD status for five (5) business days are processed as-is. We cannot honor refunds or cancellations at this point, as the custom order is now processing after attempting to contact you.
CANCEL: The order was cancelled at your request.
SHIP DATE: Once your full order has shipped, we will include the date it was shipped. You will receive tracking via email.

NOTES: We expect that some customers will forget to check their email, or simply look here first for a status update before checking their email. We will provide a short, general explanation to explain why the custom order was placed on hold. Often, these hold issues are easily resolved simply by following the submission requirements for the service you're using. In any case, we'll work with you to get your submission squared away so we can move forward with your order.
Return/Refund policy for Job Policy Status
Please note that certain statuses determine how we can handle requests to adjust your order:
Custom orders can be adjusted or cancelled while the custom order status is "In Progress". Please note that we may have already started working on your order.

Orders that enter the status of "Dry/Polish", "Complete", or "Shipped" cannot be changed or cancelled, and are not refundable, as this stage represents a completed custom order.
We believe that the Custom Job Tracker serves as a great communication tool for anyone anxiously waiting for updates on their order.