Our Photoshop control panel templates contain a LAYOUT and OVERPRINT layer.  These layers are guidelines specifically designed to help you when creating custom artwork. These guidelines are in locked layers that should remain intact when you submit your artwork.
"Flattening" is a term used in Photoshop - it describes the process of merging layers together so they are no longer editable.  Doing this usually lowers the file size of the artwork in Photoshop, since it is no longer in separate layers.
We ask that when submitting artwork from Photoshop, make sure to merge ONLY the artwork layers that you designed to the ADD ARTWORK HERE layer. Do not merge the LAYOUT and OVERPRINT LAYERS, and do not save in any other format other than Photoshop (PSD).
The LAYOUT and OVERPRINT layers are solely for your use - internally, we do not utilize them when cutting your artwork, so we do not need them to appear in your artwork.
Some customers misinterpret our request to flatten artwork, so they merge all of the layers, guide and all. Additionally, they might save the file as something other than Photoshop (PSD) format, not realizing that saving in other formats will merge all of the layers together.  File formats such as PNG or JPEG, even PDF if not configured correctly, will flatten the entire artwork file, which is not good.
Doing this prevents us from printing the artwork, because the guideline layer must be removed first.
Here is an example - notice that the LAYOUT and OVERPRINT layers are missing. The artwork is flattened to the guidelines.  We can't separate the two because the file is saved in a non-editable format.  Only one layer exists in this file: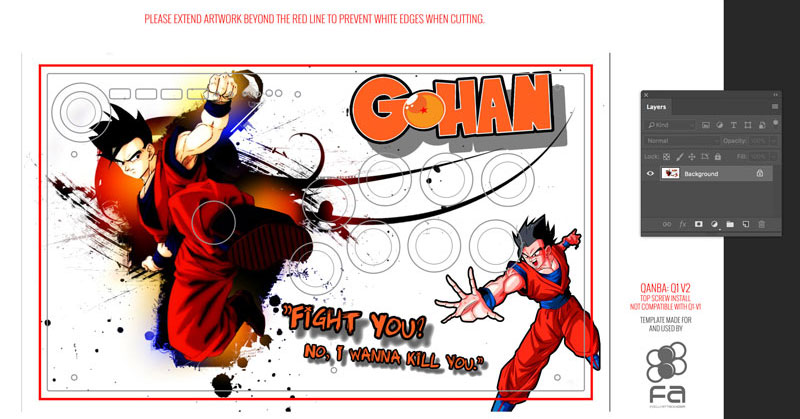 Instead, flatten only the artwork layers you designed in photoshop.  Your layers window should look like this: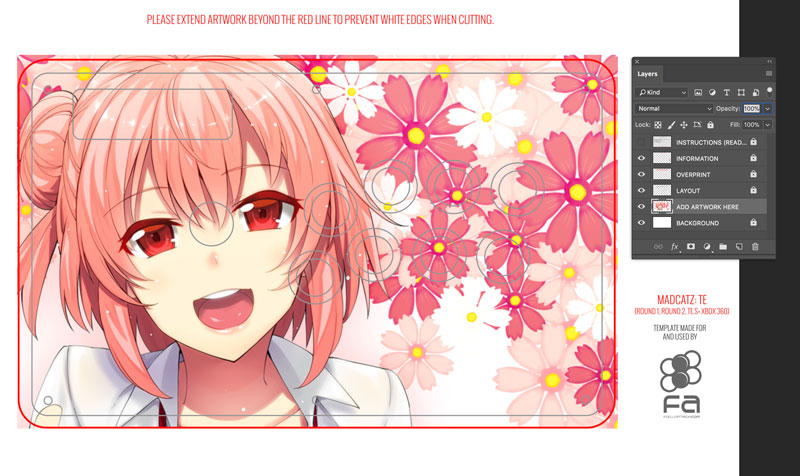 When we receive artwork that has the guidelines flattened to it, we must place the artwork on HOLD.  This status means that staff cannot progress with your custom order until we receive a correction.  Our staff will send you a message by email explaining the hold status, and instructions to send a corrected file.  If we do not receive a corrected file within five (5) business days, we will print the artwork as is. No refunds or reships are offered, and we will not address any complaints about the artwork printed in this way.  You can purchase another print with the corrected artwork at our website.
If you don't understand the HOLD message that we send, please feel free to send a message to support@focusattack.com and include your order ID.  We're happy to explain further.  Please understand that we only speak English; should you write in another language, we must use a translator, and will only respond in English.
Visit our Tips on Submitting Control Panel Print and Cut Artwork page to learn more about how to send us a proper artwork file.