Focus Attack has created a new suite of a pin connector harnesses that can utilize the 20-pin connection on Brook UFB and Audio PCB's as well as a 4-pin connector to make connecting to touchpad button, L3 and R3 a cinch. Below is the layouts for both the 20-pin and 4-pin. Additional harnesses will be added to the KB as they are released.
20-pin connector harness
When installing to the UFB or PS4+ Audio PCB it is most important to not use the VCC pins on 19 and 20.
The harness uses .110 quick disconnects to buttons and a joystick harness for direction inputs below is the color guide: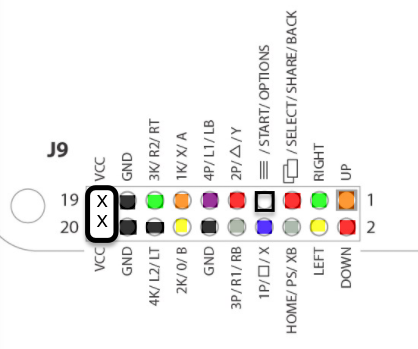 4-Pin Connector Harness:
The 4-pin connector is keyed, meaning it has grooves to prevent it being put on the wrong way. The only way it could be put in incorrectly is if the header was soldered on upside-down. The color guide below shows the color for the input signals for each button. The 4-pin has been given an extra ground connection to allow for custom builds requiring more space or perhaps the ground can provide button coverage out of reach of the main harness. If not needed, the excess quick disconnect can be unused or cut.
Watch Sam from U of U use the harnesses for his first ever build with ease.
See pictures below of an example setup of the 20-pin + .187 conversion harness and 4-pin harness in this Korean setup.