Important: If you are an international customer, please click here for information regarding your transit time.
Delivery time depends on three factors:
Your chosen shipping carrier (USPS, FedEx, etc.)
Your chosen carrier method (First Class, Priority, FedEx Ground, FedEx 2-Day, etc)
Unexpected delays due to weather, other factors.
We ask for 1-2 business days to process non-custom orders. Orders that contain a custom designed item may require 7-10 business days. Please factor this time into your delivery ETA. We don't ship on weekends or national holidays that USPS will not ship packages.
Domestic Transit Time (Estimated)
Our order fulfillment warehouse is located in Northeastern Pennsylvania.
USPS First Class Domestic can take 3-8 business days depending on proximity from our warehouse to your location.
USPS Priority Domestic will take between 1-3 business days. Detailed tracking provided.
USPS Express Domestic is guaranteed next day by the carrier. Again, please consider processing time before placing your order, as we may not have the ability to ship same day.
FedEx One Rate
Once your order ships from our warehouse using FedEx One Rate, it should take just two days to reach most destinations. This includes Alaska, Hawaii and Puerto Rico. It is important to understand that the transit time does not include order processing time. FA staff will attempt to pick, pack and ship your order within 1-2 business days (weekends do not count as business days).
Please note that FedEx cannot deliver to a USPS PO Box.
More information about FedEx One Rate »
FA Economy
Our staff chooses the carrier that is most economical to ship, so transit times will vary.
More information about FA Economy Free or Flat Rate Shipping »
FedEx Ground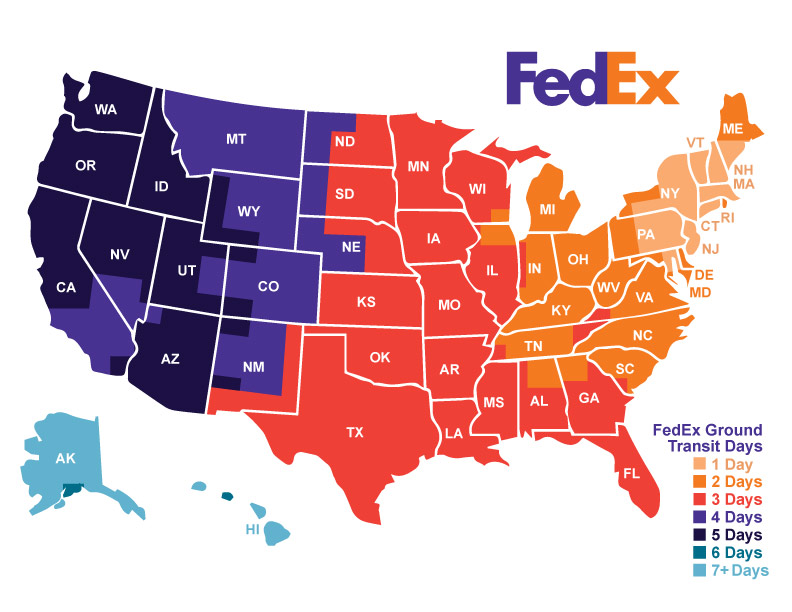 Overnight/Next Day Shipping?
We ask for 1-2 business days to process your order. Also, please note that if your order ships on Friday, it may not arrive on Saturday as FedEx or USPS regards business days as Monday-Friday. Please consider this before ordering.